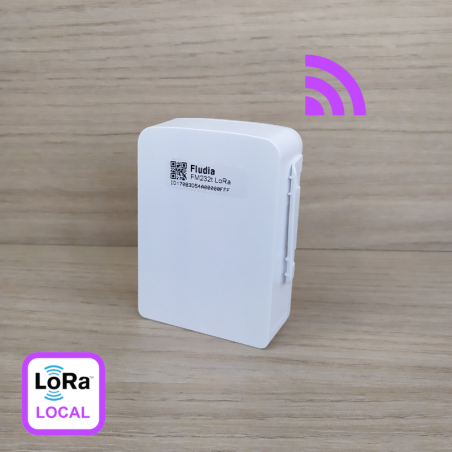  
FM232t – IoT indoor temperature sensor (local LoRa)
FM232t is an IoT sensor monitoring temperature in buildings. It connects locally to an F-Link micro-bridge (not included) through a specific local Lora radio protocol and sends the temperature curve at regular intervals.
IoT LoRa sensor for temperature monitoring with a 1-minute or 15-minutes time step (option to be selected). The sensor consists of a radio box including a temperature sensing component and 2 batteries.
The sensor only transmits messages to an F-Link micro-bridge (to be purchased separately). Up to 10 sensors can be registered on a single F-Link. Data is forwarded by the F-Link to Fludia data collect server where they can be retrieved through an API (or consulted and downloaded manually from the dashboard).
Connected: Long Range radio between the FM232 and an F-Link
Accurate: temperature series in tenth of Celsius degrees, 1-minute or 15-minutes time step
Designed and manufactured in France
Technical characteristics:
LoRa radio – 868MHz – Specific Local LoRa point to point protocol compatible with F-Link micro-bridge
1-minute option: data message every 20 minutes, including twenty 1-minute successive values
15-minutes option: data message every 2 hours, including eight 15-minutes successive values
Data decoding and storage included for 3 years (Fludia data collect server)
Supervision dashboard access included for 3 years (sensor fleet visualization, communication/data quality monitoring)  
Data collection API included for 3 years 
After the first three years, possible to switch to a completely autonomous mode (i.e. bypass Fludia data collect server)
Battery: 2 replaceable Lithium 3.6V batteries. Lifetime: 6 years for 1-minute option, 12 years for 15-minutes option
Size: 94 x 74 x 30mm
Weight (without batteries): 76g