Energy savings
If you can't measure it, you can't improve it!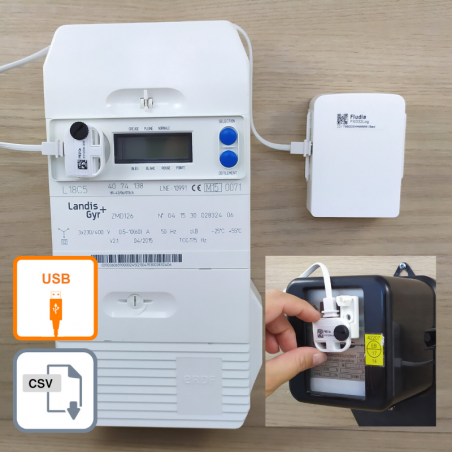  
FM332Log – Electricity Consumption Datalogger
€199.00 tax excl.

(€238.80
FM332Log is a datalogger recording electricity consumption for all kinds of buildings. It is installed on the main electricity meter and makes use of an optical technology to read the meter. This professional tool is easy to install and records the 1 minute load curve, which provides the necessary input for detecting anomalies and identifying possible savings. Data can be easily retrieved by connecting it to a PC. Easy to use, safe and compatible with most meters, FM332Log is a must for energy audits.
Electricity datalogger recording a 1-minute load curve, consisting of an optical reading head and a battery box (also containing the memory unit).
Universal: compatible with all electricity meters (with blinking LED or rotating disk)
Plug & Play: easy and quick to install, no electric contact
Accurate: power load curve in Watts, 1-minute time step 
Designed and manufactured in France
Technical characteristics
Optical reading head compatible with electronic electricity meters (with a blinking LED) and electromechanical electricity meters (traditional meters with rotating disk)
FM332Log_App software included for data transfer to a PC. Windows, Linux or iOS. Specific USB cable included
Recording time-step: 1 minute (storage capacity: 75 days)
Data format available: csv file (FM332Log_App exportation format)
Battery: 2 replaceable Lithium 3.6V batteries included
Lifetime: 4 years of continuous usage
Optical head size: 46 x 29 x 17mm / Weight: 18g
Battery box size: 94 x 74 x 30mm / Weight (without batteries): 76g
Customers who bought this product also bought: